How to install Spotipo on an AWS EC2 instance
INSTALLATION ON AWS
To install Spotipo you will need to have an Ubutntu/Debian server with at least 2GB RAM. On AWS, you need to signup / register the account at https://aws.amazon.com. Once the account is setup / active, login to the aws console at https://aws.amazon.com/console/

Once logged in to the console, select "Launch a virtual machine - with EC2" there.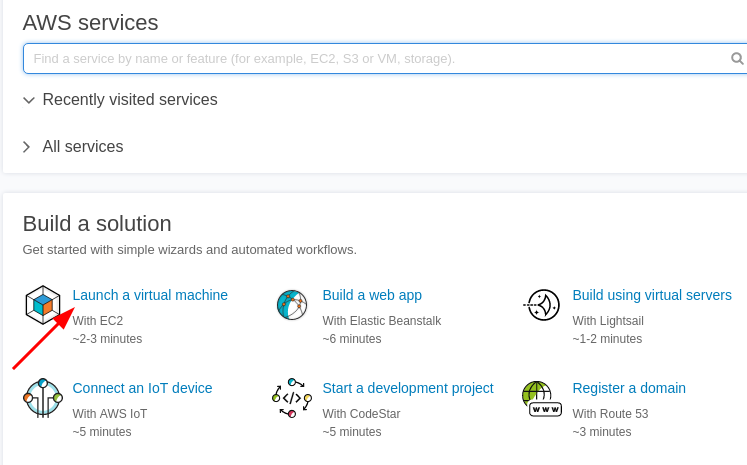 From there select "Ubuntu Server 16.04 LTS (HVM), SSD Volume Type" as Amazon Machine Image (AMI).
Step 1: Choose an Amazon Machine Image (AMI)
Select "Ubuntu Server 16.04 LTS (HVM), SSD Volume Type" as Amazon Machine Image (AMI).

Step 2: Choose an Instance Type
Select instance type as "t2.small" as 2GB RAM is recommended for spotipo install.

Step 3: Configure Instance Details
Here leave things as it is.
Step 4: Add Storage
Storage size of 8GB is suffice or you can choose 4GB size
Step 5: Add Tags
Can leave this section as it is.
Step 6: Configure Security Group
A security group is a set of firewall rules that control the traffic for your instance. On this page, you can add rules to allow specific traffic to reach your instance. For example, if you want to set up a web server and allow Internet traffic to reach your instance, add rules that allow unrestricted access to the HTTP and HTTPS ports. You can create a new security group or select from an existing one below.
Select an existing security group.

Sometimes the existing security group might not allow outgoing ssh access to AWS, so you might need to add a separate rule to allow ssh access from your IP to AWS.

Step 7: Review Instance Launch
Finally review your instance launch details you have selected and proceed with launch. You have now finished setting up the instance for your spotipo installation.

Now you can connect to the instance either using a standalone SSH terminal or using a Java SSH Client directly from the browser (Java required).

To access your instance:
Open an SSH client. (find out how to connect using PuTTY)
Locate your private key file (you need to use the key file you have saved during the instance setup which will be in somename.pem format). The wizard automatically detects the key you used to launch the instance.
Your key must not be publicly viewable for SSH to work. Use this command if needed:
chmod 400 private_key_filename.pem 

(replace private_key_filename with the actual key file name)
Connect to your instance using its Public DNS:
You can get the Public DNS / IP address from the Instance page
ec2-xxx-xx-xxx-x-xx.compute.amazonaws.com
If you need any assistance connecting to your instance, please see this guide on SSH
Example:
here my key file name is myawskeypair.pem and Public DNS is ec2-52-14-126-44.us-east-2.compute.amazonaws.com so the connection will be as follows
ssh -i "myawskeypair.pem" 

[email protected]



Please note that in most cases the username above will be correct, however please ensure that you read your AMI usage instructions to ensure that the AMI owner has not changed the default AMI username.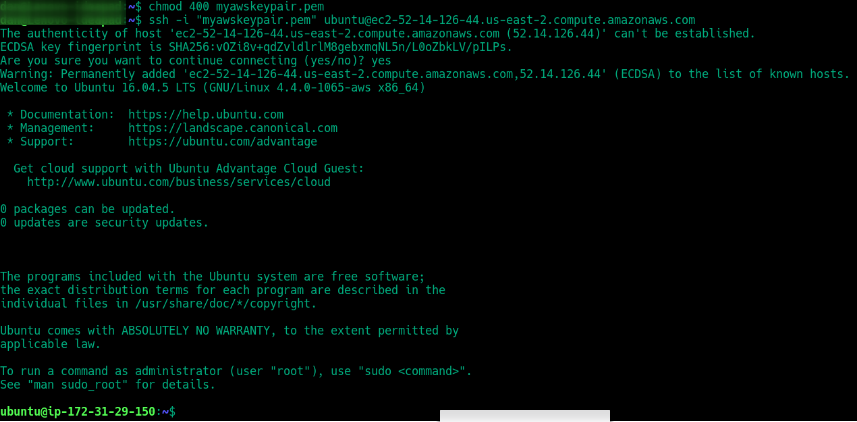 After logging in, first add the public keys used to sign spotipo packages.
    sudo apt-key adv --keyserver keys.gnupg.net --recv-keys 76634F92039C47F3

Now add spotipo repositories to your sources.list.
echo "deb http://repo.spotipo.com/ ubuntu main" | sudo tee --append /etc/apt/sources.list
sudo apt update
sudo apt install spotipo

If prompted, set a password for MySQL server. Be sure to remember it as it will be needed in next steps.
Make sure your MySQL password doesn't contain special charectors, otherwise installation will fail.

In next step, spotipo will be configured. Keep everything in default except for MySQL password.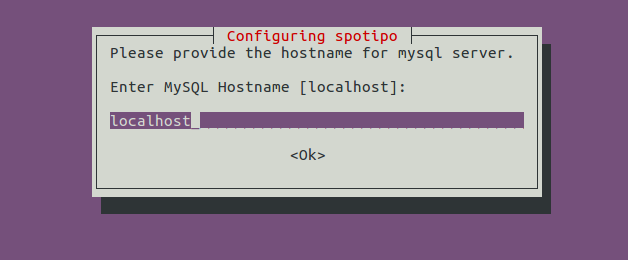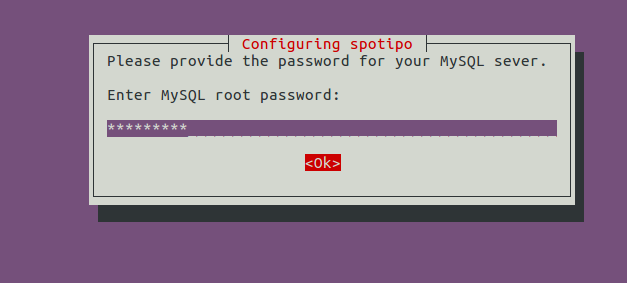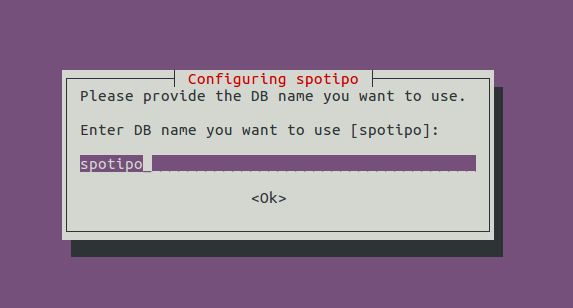 Once the installation is successful, you should be able to see the Spotipo login when by .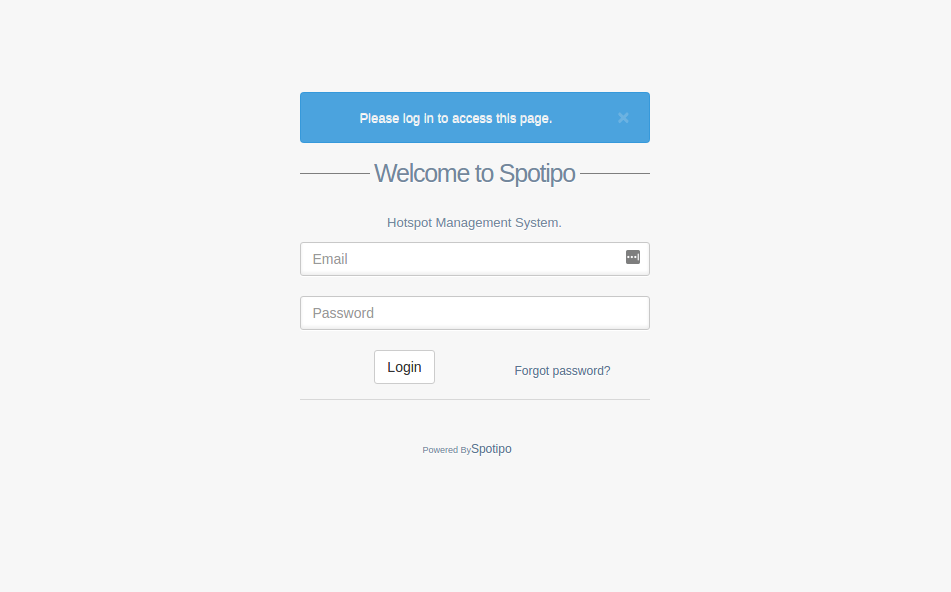 Use the following as default credentials to login, be sure to change them after logging in.

Connect with Spotipo Cloud Account
First step after installation is connecting your installation with spotipo cloud account.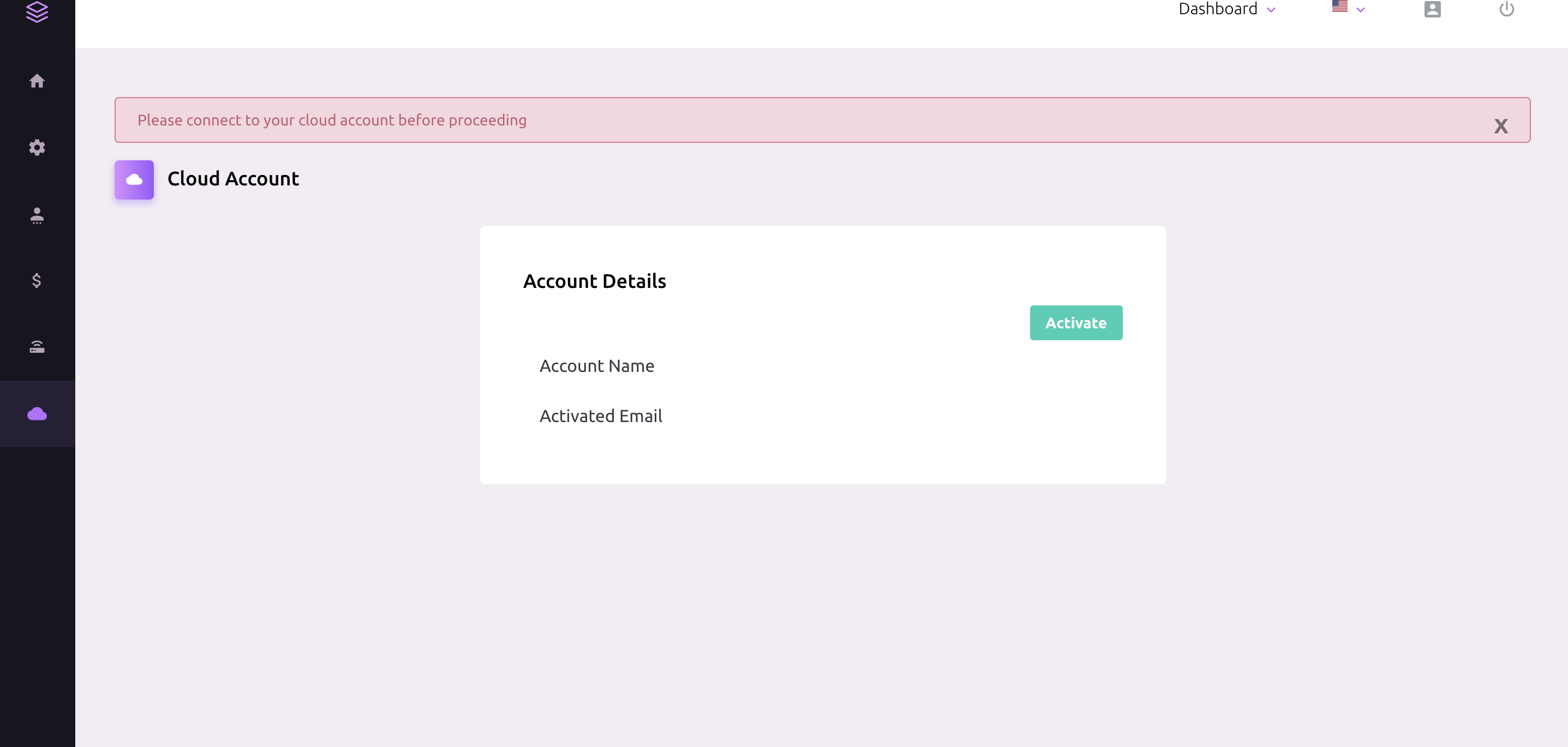 Please login with your account details if you had registered already.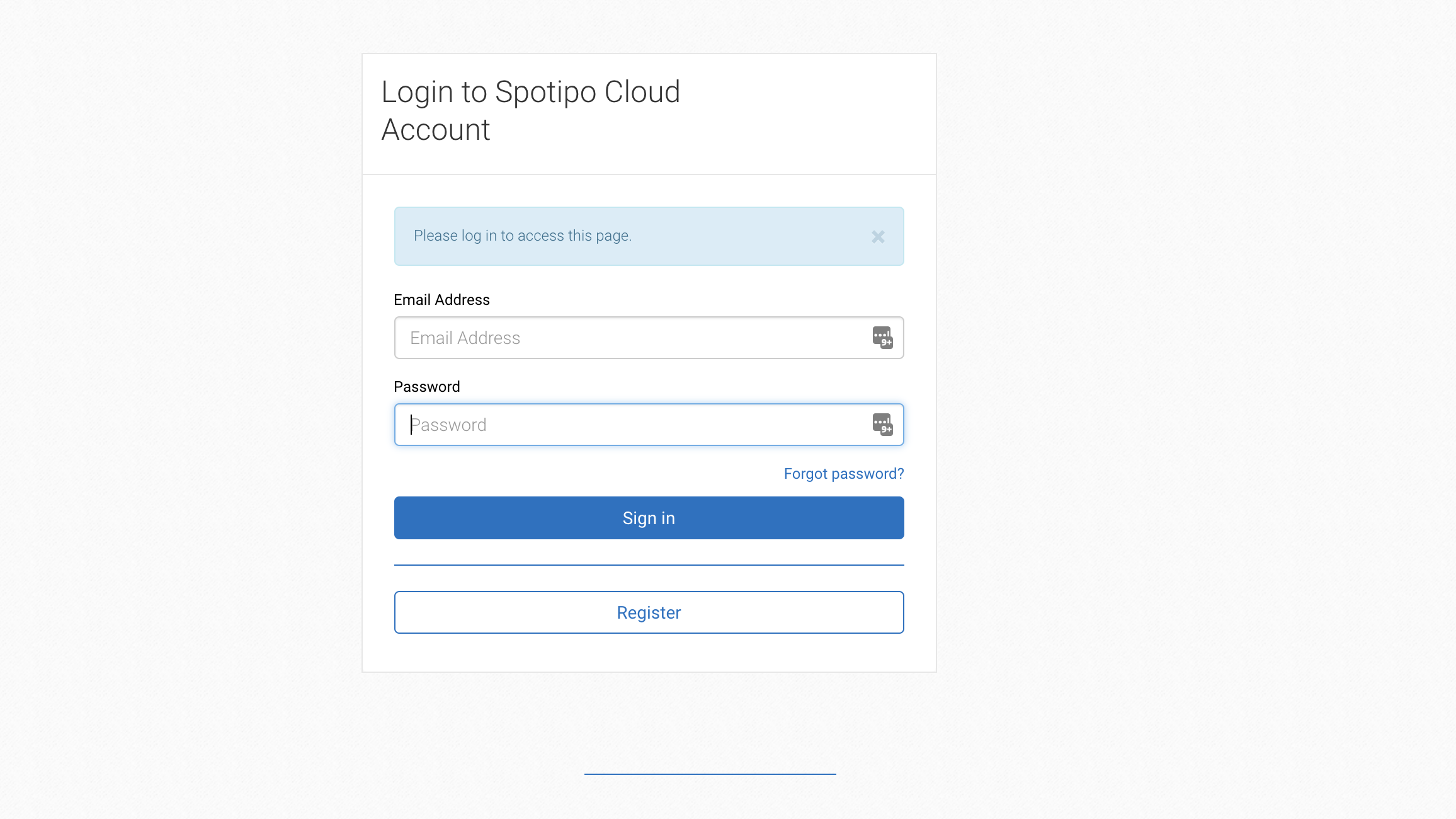 Alternatively, you can register for a new account.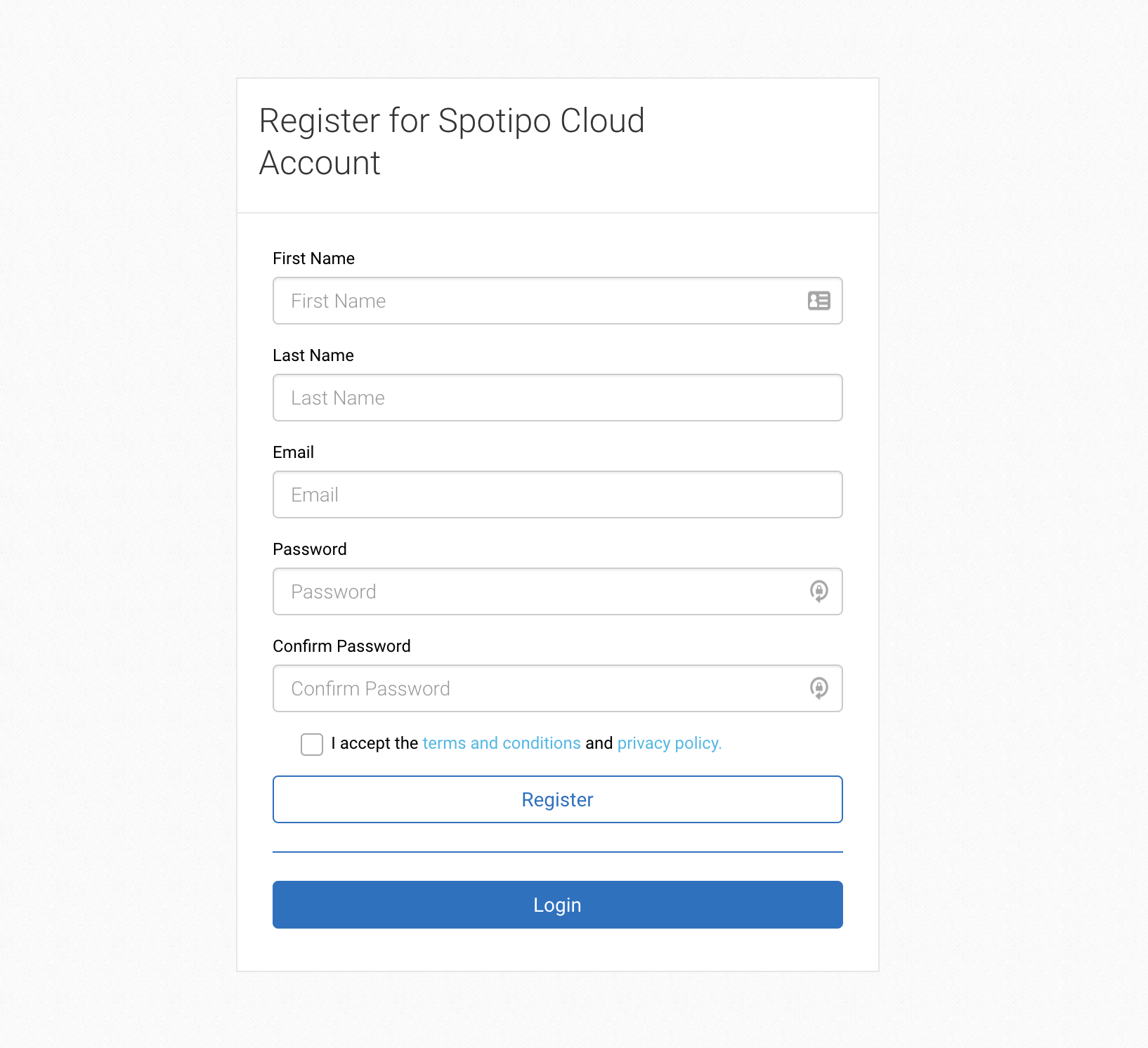 Next Steps
---
---